February 14, 2012 Poor-quality sleep is associated with increased amyloid pathology in patients who are cognitively normal, early results of a new study suggest.
Although the results are preliminary and do not account for potential confounders, "in general, this should be a reminder to everyone that sleep is very important and we need to prioritize sleep," said lead researcher Yo-el Ju, MD, Assistant Professor in the Department of Neurology at Washington University in St. Louis, Missouri.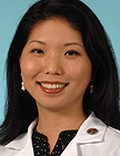 Dr. Yo-el Ju
The study results were released February 14, ahead of presentation at the American Academy of Neurology (AAN) 64th Annual Meeting, to be held April 21 to 28, 2012, in New Orleans, Louisiana.
Familial Adult Children Study
The study included 100 participants aged 45 to 80 years who were recruited from the Familial Adult Children Study (FACS). Half of the participants in the study conducted by Dr. Yu and colleagues are offspring of patients with Alzheimer's disease (AD).
As part of the FACS, participants had already undergone positron emission tomography (PET) scanning using Pittsburgh compound B as well as lumbar puncture to measure amyloid-beta-42 (A-42) levels in spinal fluid. In addition, they had completed a variety of assessments of thinking and memory. Testing had determined that participants in this current study were cognitively normal. "They had absolutely no symptoms," said Dr. Ju.
For 14 consecutive days and nights, the participants wore an actigraph, a pedometer-like wristband device that measures movement and helps indicate sleep efficiency, defined as the amount of time spent asleep in relation to the amount of time spent in bed.
For example, if someone spends 8 hours in bed but sleeps for only 6 hours, their sleep efficiency is 75%. In this study, the median sleep efficiency was 85%; one half of the participants had higher sleep efficiency, and one half had lower efficiency.
Participants also kept sleep diaries, which researchers used to "confirm and clarify" the actigraphy data. They also completed questionnaires that inquired about current and past sleep habits and possible causes for changes in sleep patterns, said Dr. Ju.
The researchers found that 25% of the study participants had preclinical AD, indicated by abnormal levels of A-42 in cerebrospinal fluid and/or increased retention of Pittsburgh compound B during PET amyloid imaging.
Participants with frequent awakenings, defined as more than 5 per hour, were more likely to have these abnormal biomarkers of amyloid pathology. A greater proportion of participants with low sleep efficiency had preclinical AD compared with those with high sleep efficiency.
"There was a definite difference; however, the exact, absolute difference is likely going to change by the time we finish the study," Dr. Ju noted.
She pointed out that people with AD, even those with early disease, have sleeping abnormalities. "They tend to have poor-quality sleep; they have trouble maintaining long periods of sleep, and their timing of sleep is a little off, so they may sleep more in the day and less at night, and that impacts their quality of life."
Nontoxic Low-Risk Approach
Although the study does not determine whether sleep disruption causes amyloid plaques, experiments on mice bred to build up amyloid plaque, carried out by one of this study's coauthors, David Holtzman, MD, support this theory, said Dr. Ju.
"The researchers found that if the mice were chronically sleep deprived, they built up a lot more of these plaques and a lot earlier in life, and if they were given a substance to sleep longer, they actually had a lot less amyloid plaques built up."
If this proves to be true in humans, it could open the door to a nontoxic, low-risk approach to preventing or slowing cognitive decline. "If we can find a link between quality of sleep and risk of AD pathology, then that would give us a lot of support for trying to improve people's sleep to see if that affects their AD risk," said Dr. Ju.
The study goal is to recruit 200 patients; 160 have been enrolled to date. Researchers hope to present the final results, which will likely be adjusted for sex, family history, age, and other potential confounders, at the upcoming AAN meeting, said Dr. Ju.
Study "Intriguing"
Approached for comment, David Kuhlmann, MD, medical director of sleep medicine from the Bothwell Regional Health Center in Sedalia, Missouri, and a member of the American Academy of Sleep Medicine, said he found the research intriguing.
"It's fascinating that sleep could possibly be associated with A dynamics and that in this study, sleep disruption was associated with the 25% of patients who had elevated levels of the A," he toldMedscape Medical News.
However, because the study is preliminary, some details are understandably vague, said Dr. Kuhlmann. He noted that although sleep diaries and actigraphy are effective at documenting sleep disruption, they do not necessarily uncover some sleep disorders, such as apneas.
"The researchers were just determining sleep disruption, but it would be interesting for further study if they were to use an ambulatory sleep test to see if obstructive sleep apnea might have been the cause of sleep disruption," said Dr. Khulman.
He questioned whether oxidative stress from apneas or hypopneas might be adding to the pathogenesis. "Or it could be just the sleep disruption itself; there are certain hormones that are not even released unless you sleep."
The study was supported by the Ellison Foundation and the National Institutes of Health.Dr. Ju has disclosed no relevant financial relationships.
64th American Academy of Neurology Annual Meeting. Abstract #703.
February 15, 2012